Star Wars: Bounty Hunters #1
Written by: Sacks, Ethan
Art by: Paolo Villanelli
Cover Art by: Lee Bermejo
2020
NEVER BETRAY A BOUNTY HUNTER – ESPECIALLY IF IT'S BOBA FETT! Years ago, VALANCE and fellow bounty hunters BOSSK and BOBA FETT took on a mission that went sideways in a bad way after Valance's mentor, NAKANO LASH, violently betrayed them. Valance's team barely escaped with their lives. He never thought he'd face his old mentor ever again…until Lash finally resurfaces under mysterious circumstances. Every bounty hunter in the galaxy wants a piece and Valance is hell-bent on getting to the prize first. He has score to settle-but so does Boba Fett! ETHAN SACKS (OLD MAN HAWKEYE and GALAXY'S EDGE) and PAOLO VILLANELLI (VADER: DARK VISIONS and JEDI FALLEN ORDER – DARK TEMPLE) are teaming up to bring you the bounty hunter adventure you've been waiting for this March!
I'm not sure there is anything that would actually make Star Wars fans happy these days, but if there is, it's the long awaited arrival of Boba Fett to the new canon. Well, here it is. More Fett! And you could not ask for better surroundings.
This book is astonishingly beautiful. The characters look like they fell right off the big screen, the pages are dynamic and exciting, the action is clear, and there's plenty of huge images dominating the page, just oozing bad ass attitude. As far as the art goes, there is nothing to complain about, at all.
I do wish the same could be said of the story though. But, I think, that's not really what Star Wars is about. It's okay if the story is a bit flimsy, it's all just an excuse to get cool characters into cool space ships, with cool back drops. While I could complain that the book is 75% action scenes with little transition between them, I won't. It doesn't matter. There's more Boba Fett! I'm willing to bet that fact alone will draws fans in.
Bounty Hunters may not exactly be a great read, but it is undeniably an important moment in the new Star Wars canon, and it is a thing of beauty. We get more of one of our favorite characters (more than one if you are actually a fan of the old school bounty hunters), we get to return to an era more familiar to most of us, and we get to marvel at the imagery. I know some people will never give comics the credit they deserve, but to me, this is every bit as exciting as a new Star Wars movie, and every bit as rewarding.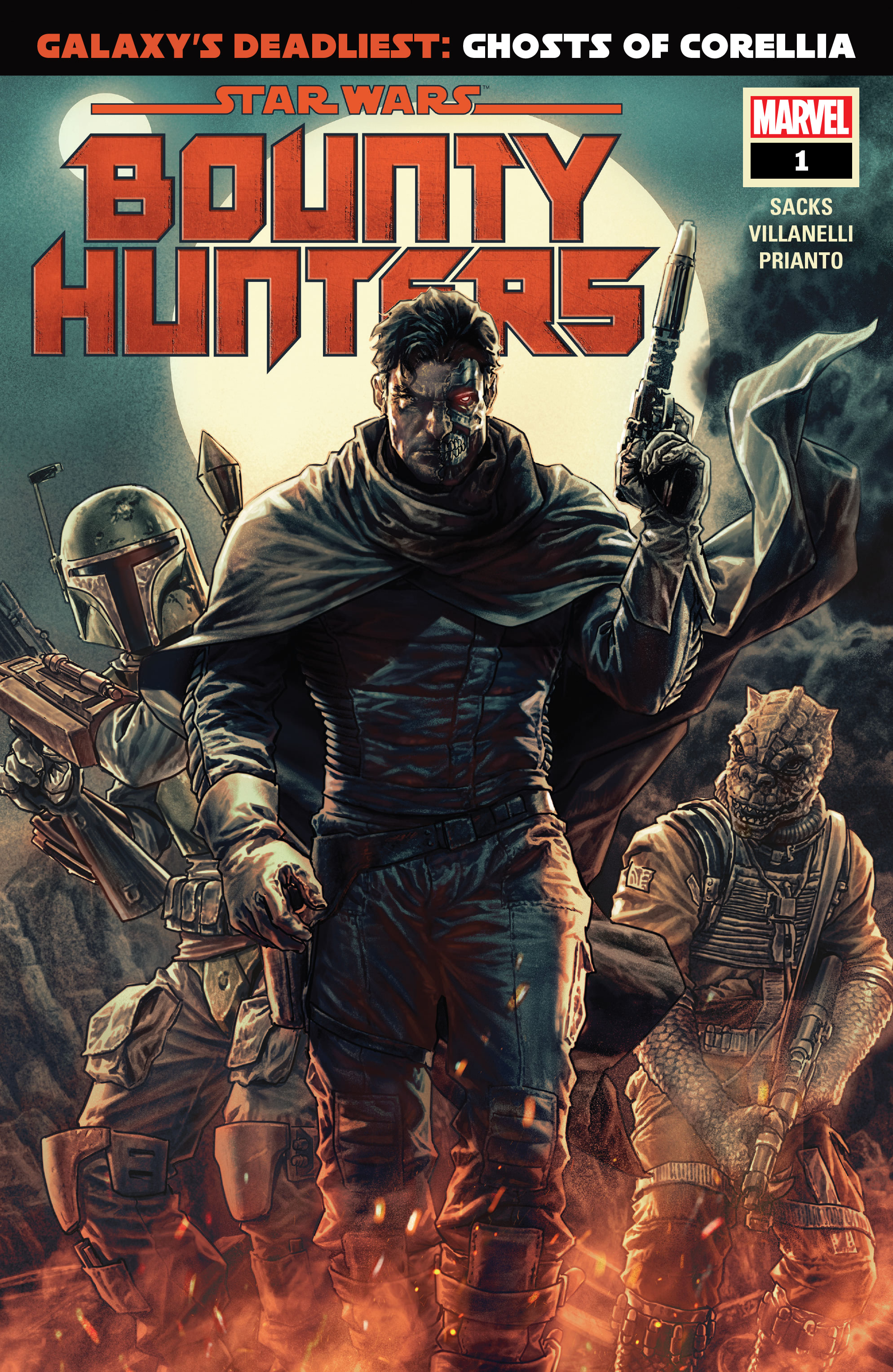 Yes, Boba Fett's In It
An absolutely gorgeous spectacle that pulls together fan favorite bounty hunters from all over. A little light on the story, but full of moments that will make fans happy. In other words, everything you could ask from a Star Wars comic.