Snacks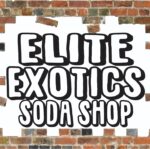 Address:
2955 Enterprise Road
Suite 109
DeBary, Florida
32713
Long Business Description:
Unique, rare, and exotic is what we're all about. Get sodas and snacks from around the world and choose from a nice selection of glass art blown by local artists.
Address:
8251 S. John Young Parkway
Orlando, FL.
32819
Long Business Description:
We, at K Poppin USA Inc. are dedicated to offering the most and the best of K Pop, Anime, & Asian Snacks all in One place! "The #1 Shop for K Pop, Anime, & Asian Snacks!"